Crossroads Family Care
Located in Mt. Enterprise, TX, Crossroads Family Care (Formerly named Mt. Enterprise Health Clinic), came to us for a complete re-branding. Crossroads Family Care is the primary health clinic in Mt. Enterprise, with a branch in Henderson TX. View live website
Project Outline
Crossroads Family Care came to us for a complete re-branding. Including a new name, logo, website, and some various print materials. This post will only focus on the website portion of the project.
The full branding process began with a new marketing strategy. Our clients wanted their health clinic to promote a warm family-friendly atmosphere with a modern appeal. They also wanted to pay an homage to the clinic's history.
After completing the logo design, we began designing a new website to be launched along with traditional print mailers, advertising the new name & website. Our clients wanted a modern, colorful design that looks great on mobile devices. They also requested a full-frame video on the homepage.
A colorful, eye-catching design
We selected a diverse, warm color palette consisting of 5 complimentary colors. This promoted the warm and family-friendly attributes while allowing us a diverse palette to work with across the entire brand.
Complete mobile-friendly browsing
We built Crossroads Family Care, using the latest standards in responsive design. These standards allow our design to look great on any device.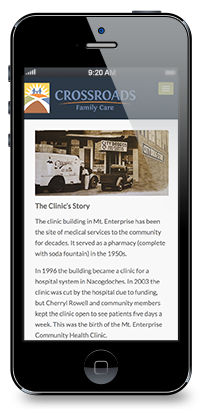 Need a new website?
Click the link below, if you need a re-design, or if you want to start from the ground-up.