Keep Longview Beautiful
Keep Longview Beautiful, is a local organization dedicated to improving quality of living for Longview TX. Their mission is to "educate and engage our community to take responsibility for improving their environment through litter prevention, beautification and waste reduction."
Project Outline
Keep Longview Beautiful approached us with the vision to revamp their look to appeal to a younger modern crowd. Looking for a design that will inspire and engage a younger crowd to join their mission.
From the start, we knew the new website would require a photo-centric design. By using a full-screen slider on the homepage we were able to showcase beautiful photos of the Longview community. In addition to large photography, we used both CSS3 and jQuery animations on the homepage to create an eye-catching experience that engages their users.
We are proud to showcase this design in our portfolio, as a fun project, for a great client.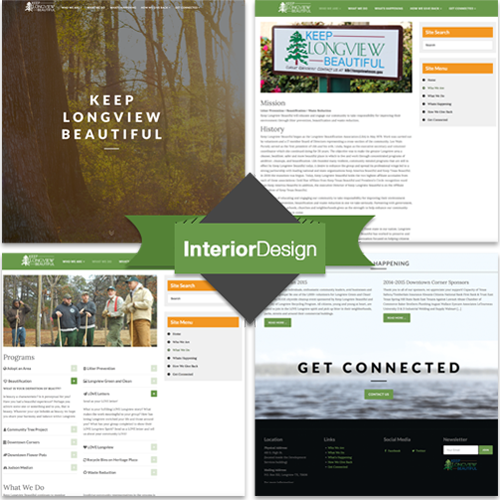 A beautiful photo-centric design
By using a combination of our own photos of Longview and photos provided by our client, we were able to show off beautiful East Texas landscapes, and the hard work that Keep Longview Beautiful is accomplishing.
Complete mobile-friendly browsing
We know how important a mobile friendly site is today. We put every effort into making a seamless mobile experience on every device.
Need a new website?
Click the link below, if you need a re-design, or if you want to start from the ground-up.