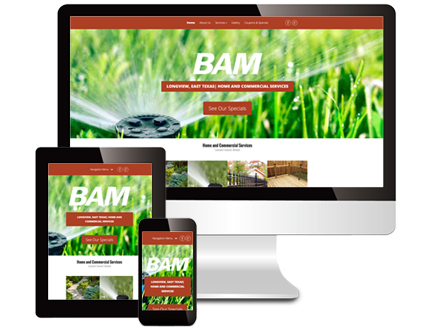 When a prospective client navigates to your website for the first time, those first few seconds are just as important as an initial telephone call or meeting. Websites that are outdated or boring may have a negative effect on the client, greatly reducing your chances of securing their business. An up-to-date website proves that you invest in your company and leaves the right kind of first impression.
We provide complete web development services. From the smallest web presence to a full content-management system, Media Quest brings the experience, tools and ingenuity necessary to make it happen.
Website Hosting & Security
Utilizing software updates, online backups, and many other crucial methods to protect your website and secure your information, our web hosting service guarantees you can rest easy knowing your site is safe and sound.
If you have something as simple as a broken link, or a missing image or an error within your site, we can fix it within minutes. Our goal is customer satisfaction, and we guarantee satisfactory support and a quick response.
Web Design
Need a sophisticated, attractive website design? Is your existing site full of outdated or blurry images? Have a campaign or promotion you want to feature within the site? We can develop or restore your look with fresh and modern graphic design work and images. Our graphic designer and web development team work together to bring you a dynamic, effective marketing tool.
IT Consulting
No matter what the question is, we have the answer for your website management and site support. Need general website help? Need to know what software to get or how to protect your website from spam and virus attacks? Call our website support team.
Email
Looking for an affordable, helpful company to handle your email hosting? Let us provide your email server, and get your email account up and running in no time. We offer only the best in support, and we guarantee you will not be disappointed with our service.
Website Extensions
We know what is being done with forums, blogs, ad management, dynamic Flash and HTML5 presentations, and where the next trends are emerging. Media Quest is where you go for answers to the technology questions you have today, and tomorrow.
Website Evaluations
There are three rules to make your site user friendly, and popular. First: make it appealing. Tasteful and well-constructed design says a lot for your company. Second: make it navigable. Sites that are not structured well tend to put off visitors. The importance of organized menus and information is key to keeping the potential customer within your site. Third: make it fast. The average user spends 4-8 seconds on a page–being forced to wait too long is a guaranteed put-off. We offer a complete website analysis and solution procedure that will guarantee an appealing, navigable and quick-loading website–the best marketing piece.
eCommerce
Media Quest knows how to make products and service a mouse-click away from knowledgeable consumers looking to the Internet for efficiency and selection. Customers find the design of our eCommerce website environment to be convenient and comfortable, making them eager to get there, happy to stay and ready to buy. If your website is in need of a shopping cart, we can build it customized to suit your business needs. We offer the best eCommerce software solutions for payment processing and can guide you down the right path to help you increase your sales.
Website Optimization
There can be a number of reasons your site loads slowly, beyond internet connections and speeds. Two of the most common problems are graphics within the site that have not been properly prepared for web, and poor coding. We have the capability to analyze your site page by page and offer you the best solutions to speed up the load process.
Website Data
One of your most important business assets is the data in your database. We will prevent loss of this data by conducting back-ups, and increase your effectiveness by optimizing tables and creating some of the most complex reports desirable. No matter if your database is an Access®, Microsoft®, Oracle®, SQL®, MySQL® or any other database we have the right people for you.
Website Management
We can give you the ability to manage your website all on your own. By applying a Content Management System (CMS) to your website, you will be able to update basic content within your site in minutes. Our web-based CMS does not require you to know any HTML, and the simple interface allows for quick and easy navigation.
SEO
SEO (Search Engine Optimization) improves the volume or quality of traffic to your website from search engines such as Yahoo! and Google. We know the tricks to search engine marketing for pushing your site up in the search engine rankings, and we can ensure that your site is not overlooked or blocked by the most used search engines.
Online Marketing
Let the world know what your business has to offer by strategic, online advertising. Pay-Per-Click, affiliation programs, social media marketing, SEO, email marketing–the ideas are endless. As your marketing agency, let our sales marketing team point you to the right place to advertise and offer the best advice for spreading your company name across the internet.
Domains
Free yourself of the domain hassle and let Media Quest handle the domain registration and domain hosting. Need help thinking of creative or SEO-friendly domain names? Let us do the domain search for you and provide you with the best available domains.
Our Portfolio
If you want to see some of our work, click the link below.